Best Keto Multivitamin Supplements
There are at least 13 vitamins (A, B, D) and 16 minerals (sodium, potassium, magnesium, calcium) that fall in the list of the basic nutrients your diet should contain to be considered healthy for the body and mind. Apart from a few of them, they cannot be produced by the body and are fundamental because they are engaged in essential functions like energy production, strengthening of the immune system, regulation of hormones, and more.
If you are following a ketogenic diet, then it's clear health and fitness are in your mind, so you might be wondering: what supplements should I take on a ketogenic diet? While a keto diet, if well planned, can be healthy, it might still lack those nutrients we talked about. Such is the reason why many resort to buy a can of multivitamin supplements and take one daily, thinking that will solve the problem. That is not the case! In our article, we will be discussing in-depth about these supplements, what the best selling are and their benefits, as well as some important indications. Health is something you have to take seriously.
What Is Keto Multivitamin Supplement?
Multivitamins are preparations that serve as dietary supplements because they contain vitamins, minerals and other micro-nutritional elements. They are used to balance deficiencies out in the diet by providing the nutrients you don't acquire through the food you eat.
However, as we said before, ingesting a pill every day won't solve your problems. First of all, because not all supplements are the same. Some are very low quality and contain harmful components or inactive ones that won't give you the vitamins and minerals you need and, in some cases, even make the problem worse. A good multivitamin supplement will contain the following ingredients:
Vitamins A, B6, B12, C, D2, D3, E, K
Calcium, magnesium, selenium, zinc
Thiamin, riboflavin, niacin
Second, because if you suffer from vitamin and mineral deficiencies, a multivitamin supplement alone will not be the answer long-term. You should work on improving your keto diet, making sure you eat plenty of fresh, low-carb vegetables and fruits, keto foods high in potassium, and drink a lot of water. Even if eating like this, you might still lack in some departments. Consult with an expert to understand how you can improve your eating habits. If done well, you might not even need multivitamins.
Anyways, if you want to boost your health and energy levels, as well as forgetting about sickness, a multivitamin supplement is perfect for you. Especially if you follow a keto diet, as studies have shown vitamin deficiencies are more frequent in these types of diets. In the following section, we will see all the benefits of good, high-quality multivitamin keto supplements.
Benefits of Taking a Keto Multivitamin Supplement
A multivitamin supplement improves your immune system. Vitamins are essential to the well-being of such a system, and a lack of them may lead to its weakening. Making sure to have an adequate amount of vitamins in your body will lead to the improvement of its immunity and thus, prevent common (and not so common) diseases or fight against them faster.
It raises your energy levels. If your body is experiencing a lack of fundamental nutrients, it will not have the capacity to be energized and support you throughout your daily activities. Multivitamins, by providing these nutrients, will make your energy levels go higher precisely because your body will find the necessary components to function well.
According to some studies, a multivitamin supplement will help you maintain your ideal body weight. It has been seen how some nutrient deficiencies can worsen your metabolism, increase hunger and decrease fat oxidation. Once you cure these deficiencies, these problems will likely go away as well, and so it will be much easier for you to obtain the weight you desire.
Best Multivitamin for Keto Diet
Adult Multivitamin by Dr Tobias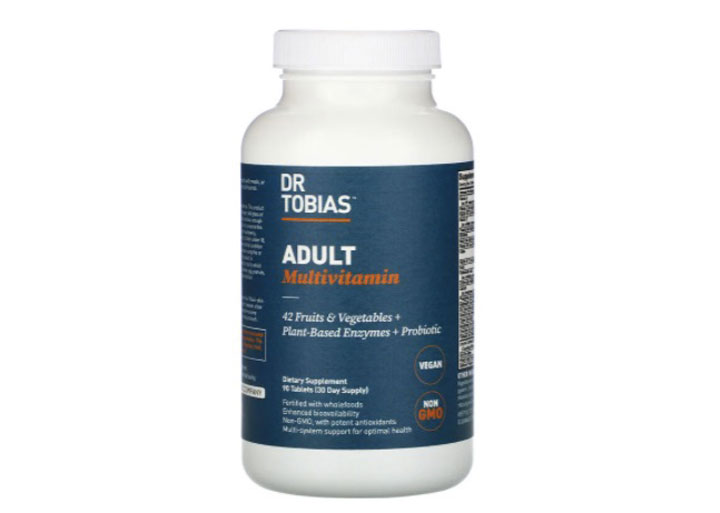 Short Description
What makes this one of the best multivitamin for keto diet is the company's unique approach to manufacturing. Dr Tobias uses a natural food-based one, using 42 no GMO fruits and vegetables, plant-based enzymes, and probiotics, to help your digestive system become healthier. This process makes this multivitamin 100% no GMO and vegan. One serving of this multivitamin supplement contains the necessary amounts of vitamins and minerals in it.
Pros and Cons
+ No GMO
+ Vegan friendly
+ Certified by GMP (Good Manufacturing Practice)
– Not suitable for those with soy allergy
Usage
The supplement jar contains 90 capsules. It is advised to take three tablets of multivitamin a day, one each meal.
Price
The price advertised on Dr Tobias official page is at $23.98 at the time of writing. The multivitamin also sells on online stores like Amazon, as well as in pharmacies and local stores.
Multivit by NutriAlign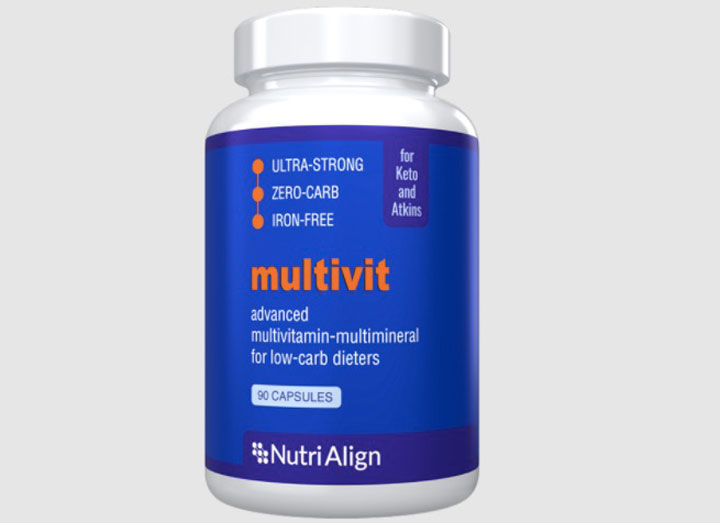 Short Description
The multivitamin supplement designed by NutriAlign is designed especially to meet the requirements of a keto dieter who follows low-carb nutrition. It is free of carbs, sugars, sweeteners, and soya, as well as containing no gluten, lactose, or sulfites, making it perfect for gluten or lactose intolerants.
What it does contain, on the contrary, is a good quantity of the essential vitamins and minerals we discussed above. It also includes green tea extract, helpful in the process of fat burning and weight loss, and grape seed extract for better functioning of your heart and blood stream.
Pros and Cons
+ It is free of carbs, sugars, soy, and other components.
+ Contains an extra dosage of chromium.
+ Manufactured in line with GMP (Good Manufacturing Practice)
– A bit more expensive than others.
Usage
NutriAlign suggests to use its multivitamin supplement three times a day, preferably with each meal. The capsules should not be taken on an empty stomach. 90 capsules are included in every pack.
Price
The price advertised on Nutri-Align's official page is at $26.69 at the time of writing. The multivitamin also sells on online stores like Amazon, as well as in pharmacies and local stores.
Tune Your Keto by Vitamin Bounty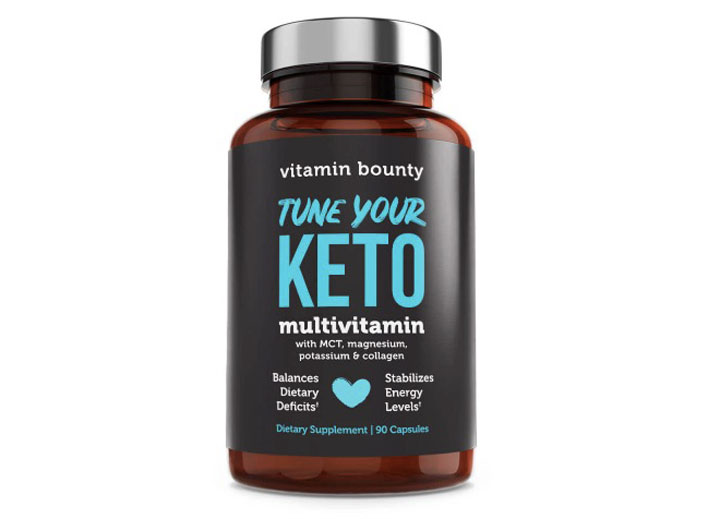 Short Description
Vitamin Bounty produced Tune Your Keto multivitamin supplement to satisfy the needs of every keto dieter who wants to improve their health by taking more vitamins and minerals but don't want to break the state of ketosis with unnecessary carbs and sugars present in most of the multivitamins on the market.
It doesn't contain iron because you should already meet the necessary iron requirements in your diet, but it contains a few electrolytes, a keto blend made of chicken bone broth collagen, MCT to support the keto state, and a few herbs to fight against inflammation.
Pros and Cons
+ Contains a lot of ingredients oftentimes absent in other multivitamins to help you being in good health.
+ Does not contain another unnecessary dose of iron.
+ GMP (Good Manufacturing Process) certified.
– It contains rice flour.
Usage
The multivitamin supplement's manufacturer advises to take three capsules once a day, preferably during meals. The product contains 90 capsules in total.
Price
The price advertised on Vitamin Bounty's official page is at $24.99 at the time of writing. The product often goes on sale, so make sure you check that out. The multivitamin also sells on online stores like Amazon, as well as in pharmacies and local stores.
Keto Multi by Ancient Nutrition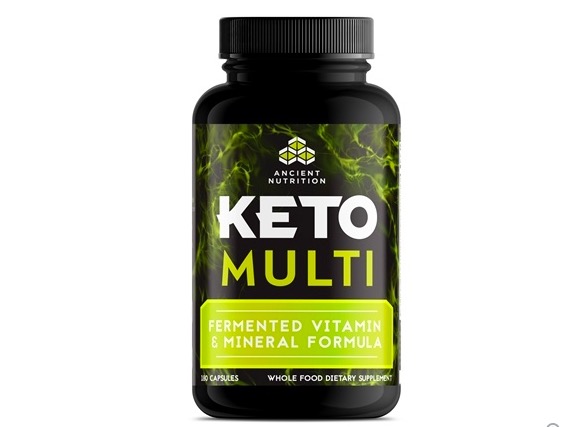 Short Description
If you are following a keto diet, chances are you have also heard of the paleo diet, one which focuses on having a diet the closest possible to that of our late ancestors. Well, Ancient Nutrition specializes exactly in this. It provides you with a multivitamin supplement which will meet your keto requirements, satisfy your body's necessity with regard to vitamins and keep you healthy and strong.
Keto Multi contains more than 16 fermented vitamins and minerals to help your digestive system absorb the nutrients better, and also organic chicken bone broth oil, MCTs, and an organic botanical blend.
Pros and Cons
+ Gets absorbed better by your body.
+ Paleo, keto, and low-carb diet-friendly.
+ Contains 100% RDV for 16 vitamins and minerals.
+ Free of artificial flavors.
– The company advises to take 6 capsules a day.
– The size of the capsules could be a bit too big for someone.
Usage
Ancient Nutrition advises to take 6 capsules of multivitamin daily with 8 ounces of water. The product contains 180 capsules in total.
Price
The price advertised on Ancient Nutrition's official page is at $38.21 at the time of writing. The product often goes on sale, so make sure you check that out. The multivitamin also sells on online stores like Amazon, as well as in pharmacies and local stores.
Core Basics by Ketolabs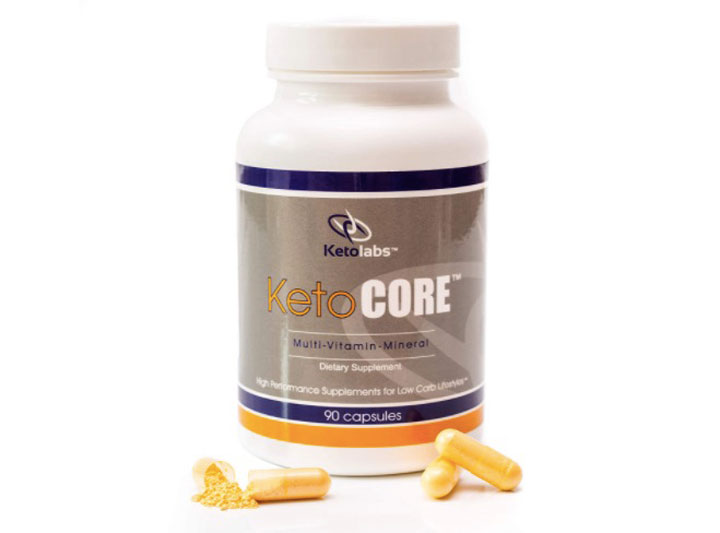 Short Description
Core Basics is a multivitamin perfect for keto dieters, as it is specifically designed to reduce the amount of carbs you ingest as well as provide you with all the necessary nutrients to stay healthy and energized. It contains all of the most important vitamins to take on keto, for a total of 42 veggies and fruits, all with a wide range of minerals and other nutrients.
Other good ingredients are ginkgo biloba, incredibly helpful when it comes to your brain health and digestive enzymes to help your body assimilate the new vitamins.
Pros and Cons
+ Contains ginkgo biloba and important enzymes.
+ Iron free supplement.
– Contains soy.
Usage
Ketolabs advises to take 1 to 3 tablets of the multivitamin supplement daily. The jar contains 90 tablets in total.
Price
The price advertised on is at Ketolabs official page $22.99.
Conclusion
As you have seen, there are plenty of options if you want to improve your health and boost your energy through some keto vitamins and minerals. The list above comprises only safe, high-quality, tested, and approved multivitamin supplements. Nonetheless, we are talking about your health and body, so make your own research when deciding to buy some supplements.
Some final advice we would like to give you is to make sure the multivitamin supplement you are buying is verified by the U.S. Pharmacopeial Convention or other independent, professional organizations and that it contains 100% of the daily value of most of its ingredients. If you choose the right multivitamin on keto, like the ones we listed above, then enjoy its benefits: if accompanied by a good diet, you are on the path for perfect health and a happy soul.