NOW Supplements Review
In our times, we can review a noticeable growing interest in well-being and in the ways we can improve our health, meet our desidered fitness levels and boost our energy and mental conditions. NOW Foods is among the leading industries in the manufacturing of products which greatly help meeting these goals, using natural ingredients with proven high quality. In this NOW Foods review, we are going to analyze the main characteristics of NOW brand supplements, give you some in-depth info, and much more. Keep reading!
What Are NOW Health Products?
NOW Foods is a family-owned company operating since 1968 and, according to our review, one of the most popular and awarded manufacturers of natural supplements, vitamins, essential oils, and more for every fitness enthusiast, keto dieter, or in general for anyone interested in taking care of their health and shape. NOW healthy foods are consumed worldwide and have received several awards for its quality, such as the Best of Natural Beauty and Supplements in 2020 and 2023 by Better Nutrition, the Chicago Tribune Top Workplace Awards, Nation's Best and Brightest in Wellness, and many more.
You could be wondering, awards are good, and all, but is NOW foods a good brand? Apart from awards, the company sells certified products and undergoes several harsh tests to sell only the best supplements. NOW company adheres to the Good Manufacturing Practices program (GMP) to ensure what they end up selling went through the appropriate control measures. Many of their foods are non-GMO verified, meaning they do not use genetically modified ingredients, and many others do not undergo animal testing and are thus cruelty-free. Our review team hopes the number of supplements following these lines will increase in the future.
NOW Foods sells truly a myriad of supplements, beauty and health solutions, essential oils, sports nutrition products, natural foods, and even options for your pets for a total of more than 1,400 options. Let's review the brand.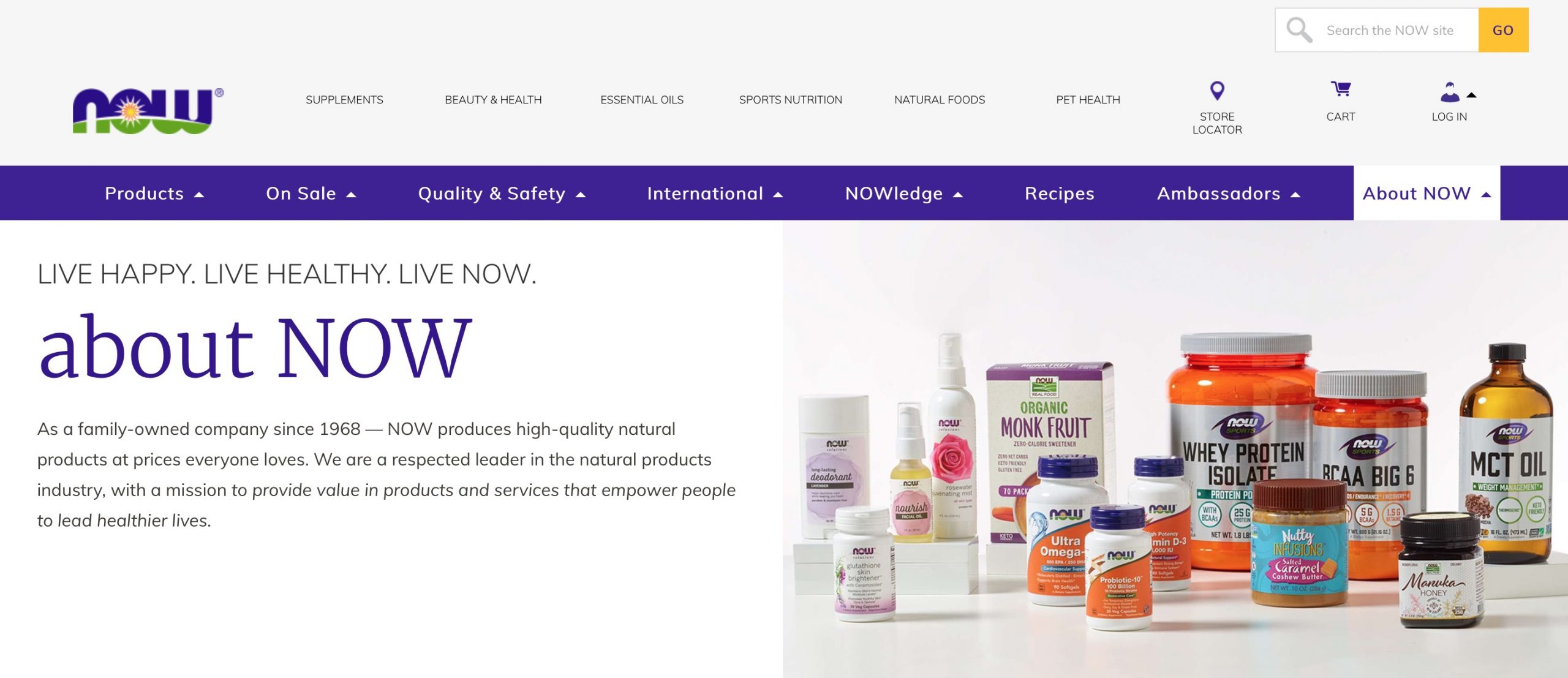 Pros and Cons of NOW Foods
+ Hundreds of options in every wealth department to choose from to satisfy all your needs (and the ones of your pets!), all on display on the official website.
+ Certified and multi-awarded facility, with decades of experience behind and thousands of loyal consumers' reviews to testify the quality of the supplements.
+ Vegan, gluten-free, dairy-free, keto, and paleo-friendly foods for those with food intolerance or even for those who simply don't want to consume certain ingredients.
+ Many non-GMO and cruelty-free NOW brand vitamins and other supplements.
– A lot of foods are often unavailable on the official NOW store because they are out of stock, and it could be difficult to buy some of them on other stores.
Ingredients Used in NOW Foods
Of course, much depends on the food or supplement you are purchasing. As you have read in our NOW vitamins review, the company sells a lot of different products, and ingredients vary greatly based on the effect the supplement claims to produce and the effective nature of the said product. Our NOW brand supplements review will cover the main ingredients found in some of the most popular products, but we suggest you visit the website NOW foods com for a complete list and review of the ingredients contained in the supplement you are interested in.
Amino acids are a fundamental component of many of the options sold by NOW. They are raw materials fundamental for your body, and they provide a solid foundation to support athletic performance, high energy levels, and overall good health. Some of these amino acids are 5-HTP, Acetyl L Carnitine, GABA powder, Glycine, L Arginine, L Theanine, and many more.
Antioxidants are also another element which have a profound impact on our organism. Oxidation has a saying in our aging process, so antioxidants can help you undergo this natural process in a slower way, helping your body minimize the effects of dangerous free radicals. Gamma E, Calcium Ascorbate, Magnesium, Vitamin C Ascorbate, E Oil, and Acerola are just a few examples of these precious substances.
NOW herbal supplements are important to promote overall well-being and beneficial effects. They have been used for thousands of years worldwide and are a tradition in many cultures. NOW offers a lot of options, including Alfalfa, Acai, Astragalus, Cat's Claw Extract, Ginkgo Biloba, Maca, and Propolis.
Hyaluronic Acid and other ingredients, such as Minerals and Vitamins, are also widely used by the company. Many of their products don't contain additional ingredients apart from those you are buying, but such is not always the case. Our review finds that some do include things such as rice flour, silicon dioxide, magnesium stearate, cellulose capsules, and more.
NOW Foods Results
Results will vary depending on the supplement you consume and its expected benefits. In general, dietary supplements are a good way to ensure you are getting all the necessary nutrients and that you are integrating important ingredients for your health. They are also extremely beneficial in helping meeting your fitness goals, as many of them could reduce appetite, increase muscle growth and even fasten ketosis processes, which are important in case you are following a low carb, high protein diet. Your mental health will be benefitted as well, as many NOW products give you a helpful hand in coping with stress, migraines, and more according to our review.
These miraculous results are not invented by our review team; there is scientific proof backing them up, and, if that wasn't enough, our NOW Foods supplements review has thoroughly tested many of their products. You have our word.
How to Take NOW Foods?
Dosage and times depend on every specific product. It is important to review carefully the instructions indicated by the manufacturing company to avoid adverse reactions. Detailed information on this aspect is available on the website for every supplement. For example, there are some which you need to take just once a day, some others even two, three or more times to feel the desired effects. And again, in some cases, it is advised to take them with meals; in others, you should take the pill or a teaspoon of the powder with water or any other drink. If you have any doubts, consult a physician who will be able to advise you the best dose, so you don't go through side effects or unwanted results (or no results at all!).
NOW Foods Safety and Potential Side Effects
Speaking of side effects, we can proudly say in our review that there shouldn't be particularly harmful side effects you should be worrying about. Nonetheless, despite the quality and the recommended dosage, your body could experience some side effects related to the consumption of said products. They are generally very light, such as some headaches and stomach issues, and they should disappear quite quickly, as soon as your body adjusts to the change. NOW Foods should not give you any dangerous problems, and if it does happen, then consult a medical expert immediately. Generally speaking, they should be safe to consume, and your organism should have little issues adapting to them.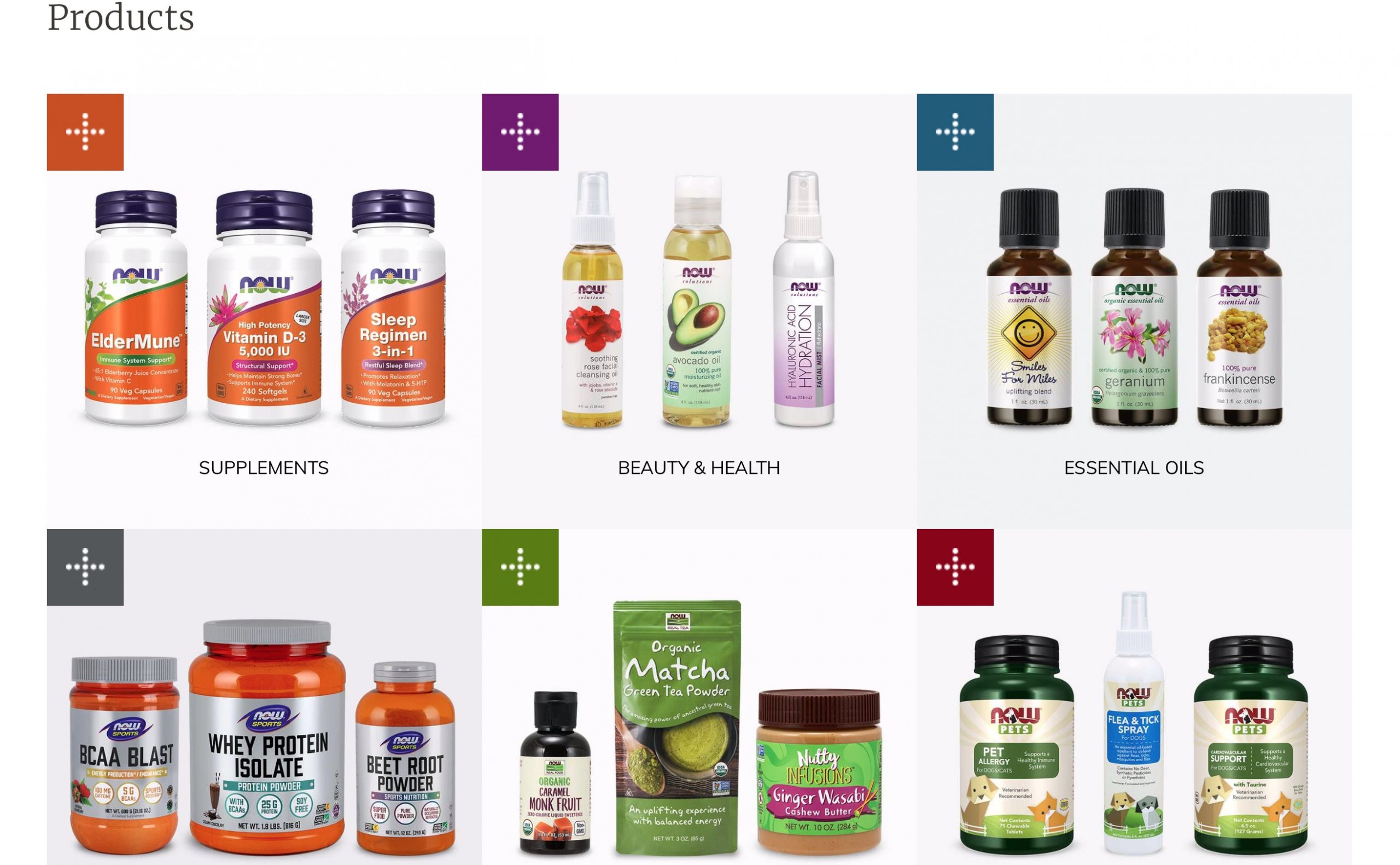 NOW Foods Price
Prices vary greatly on the supplement you buy. They are generally pretty cheap and range from about $5.59 USD for products such as Apple Fiber Powder, Vitamin A and D softgels, and more, to about $40 USD for Turmeric Curcumin Gels Softgels, Digest Ultimate Veg Capsules, and others. The most expensive supplement sold is the Probiotic 10 100 Billion Veg Capsules, at $63.99 USD. All these prices mentioned in the review are taken from NOW Foods official website, even though you could buy them from other stores, including Amazon. As our review has found, there are a lot of options for purchases: you can buy single packages or stacks of 3 or more boxes, an option which allows you to save considerable money.
Conclusion
We have now come to the end of our NOW herbal supplements review. What else could we add? NOW Foods quality is undisputed, and the several awards, certifications, reviews, and tests are proof of this. There is truly something for every necessity; either you want to improve your general wellness, or you want to obtain some specific benefits. If you are vegan, or follow a keto or paleo diet, or cannot eat gluten or dairy ingredients, you will certainly find the right supplement for you of the highest quality and made of natural ingredients to obtain the best results. Prices are generally quite affordable and are, in fact, very competitive for the products sold. NOW Foods website is very useful and has all the information you need about prices, suggested usage, storage, ingredients, and other supplement facts. Oftentimes their products go on sale, so make sure to review the site often to enjoy some discounts.