Kiss My Keto Review
Are you following a ketogenic diet and miss some tasty snacks? Do you feel guilty when eating products containing high carbs but struggle to find good substitutes to them? Then KissMyKeto could be the solution you need. The brand specializes in manufacturing delicious, keto-friendly foods and supplements to make your transition to ketosis easier and to provide energy and strength to your organism. Our review covers every aspect related to the brand, so let's get started.
What Is Kiss My Keto?
KissMyKeto is a company born with a precise objective in mind: making the transition to a ketogenic diet as easy as possible. The brand pursues this aim through the manufacturing of a lot of different products and supplements, which not only boost your energy and promote a faster and longer ketosis state in your body but also lets you enjoy much-loved cravings. Everyone, but especially keto dieters, feel bad when consuming snacks and the like. Oftentimes they are not particularly healthy, and worse, and they are filled with carbs. Kiss My Keto thus focused on creating a specific line of snacks perfectly apt for a ketogenic diet, so you can enjoy breaks without that terrible feel of guilt.
In short, KissMyKeto sells a wide variety of ketogenic products, from supplements to foods, as well as snacks and MCT Oil, and our review will analyze in-depth all the main characteristics, benefits, prices, and more. Because it would be impossible to review every single product, we hope our general guide will be complete enough to give you an idea of what to expect if you start taking Kiss My Keto supplements.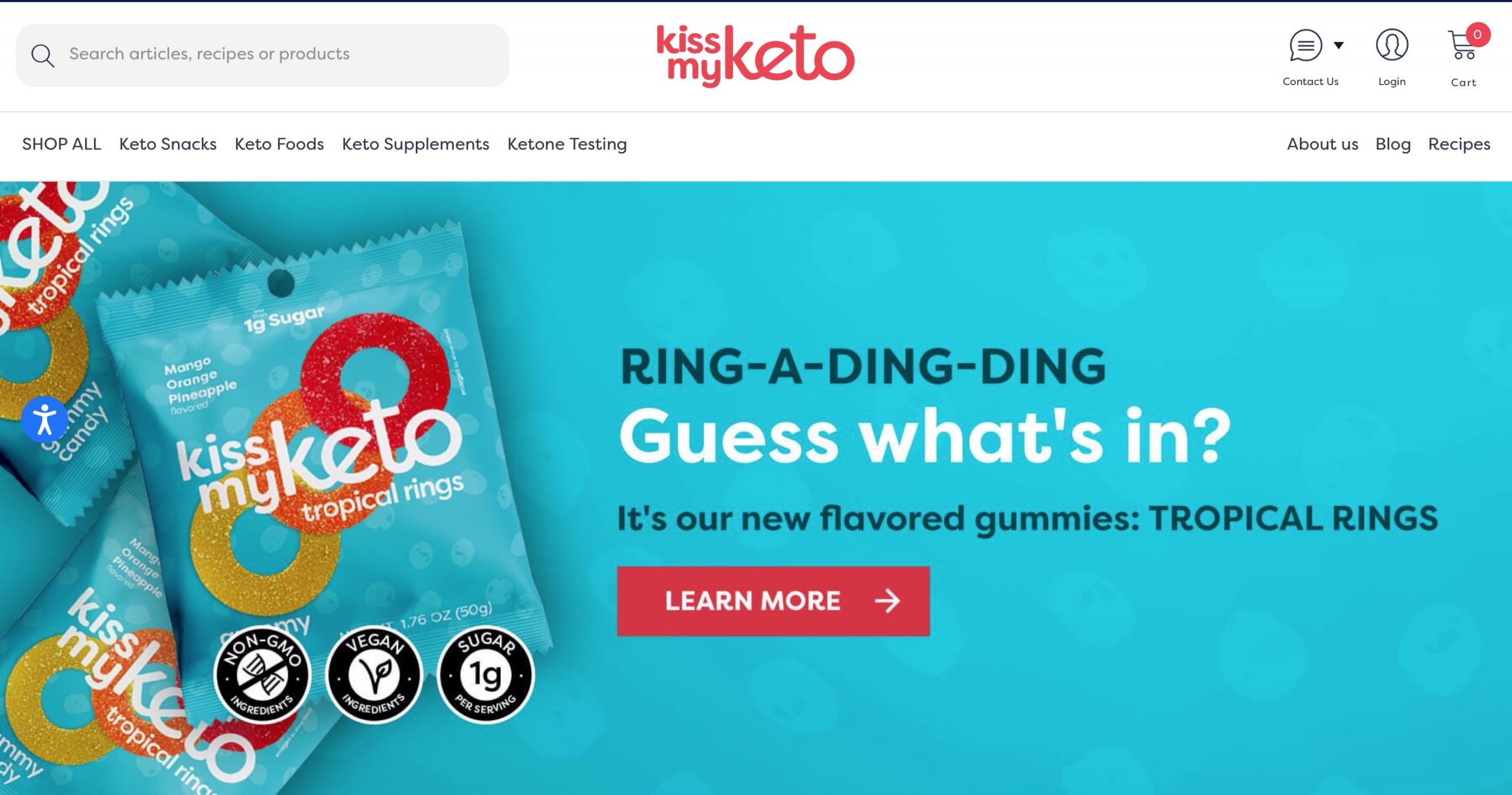 Pros and Cons of Kiss My Keto
+ Healthy and keto-friendly snacks and foods so you don't have to give up on the things you love.
+ Quality of the ingredients means also not exceeding the macronutrient ratio of 75% fat, 20% protein, and 5% carb, perfect for a ketogenic diet.
+ Many resources, apart from supplements, to help you get into the ketogenic diet or to continue your journeys, such as the KetoAcademy, recipes, and a helpful blog to talk about all things keto.
– Kiss My Keto is an American company, and physical stores are located in the US only. For people living in other countries, the only available option is buying online.
– Compared to other supplement manufacturing brands, KissMyKeto currently sells "only" 22 products.
Ingredients Used in Kiss My Keto
As you know now, KissMyKeto sells more than 20 products on their web page. Of course, ingredients will vary for each of them, also depending on the function they fulfill. Snacks, for example, will contain ingredients to make what you are eating taste better; Kiss My Keto exogenous ketones will focus on, well, ketones, instead, since its main aim is to help you reach a high level of ketones in your organism. Our review will try to cover all the main ingredients you can find in a KTK product.
Let's start with snacks. They are optimized for a ketogenic diet, so they don't contain artificial ingredients, added sugars, or any other unhealthy ingredient. You have a wide variety of choices: cookies, dark, unsweetened chocolate, granola, baking mixes, brownies, and bread crumbs. Most of them contain eggs, which are a good source of proteins, and contain 18 vitamins and minerals. To sweeten these snacks, KissMyKeto uses stevia, a natural and keto-friendly ingredient that helps lower your energy intake and gives more taste to your food. MCT Oil is also a widely used ingredient because MCTs (Medium Chain Triglycerides) are fats easy to burn and able to give you increased energy. Then you may also find butter, almonds, nuts and seeds, coconut, lecithin, and more.
Moving on, it's time for Kiss My Keto bread reviews. It is a perfect choice to substitute your typical high carbs bread with this 0, max 2 (for the Cinnamon Raisin) net carbs, 5 grams of protein, and 4 grams of fiber. This bread is made with kosher ingredients, soy-free, sweetened with honey, and contains mainly vital wheat gluten, the main protein in wheat. It also has eggs and oat fiber.
On the website, you may also buy Kiss My Ketones supplements, which contain Beta-Hydroxybutyrate (BHBs), the primary ketone produced in a ketosis state, as well as Electrolytes in the form of a refreshing powder. In fact, electrolytes are fundamental in keeping your organism hydrated, especially during the first stages of your ketogenic diet, as the body tends to expel great quantities of liquids during the first period.
To conclude our review, remember that the company also sells Collagen to support the growth and repair of some areas of your body, such as skin, hair, and nails, and also MCT Oil in the form of liquid, powder, and capsules.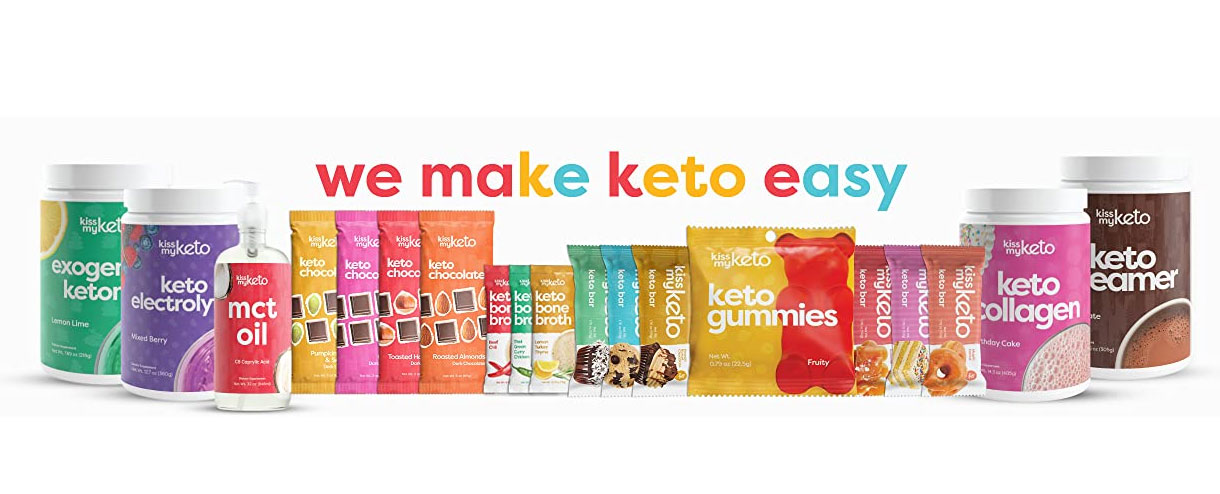 Kiss My Keto Results
KissMyKeto ingredients are specifically designed for a ketogenic diet. If you consume snacks and other foods, then you will be simply helping your body in maintaining a healthy diet because you won't be consuming any carbohydrates, all this without getting rid of the snacks we all love. If you choose to go for the supplements, then expect to see a few benefits more. Especially at the beginning of your journey, ketogenic supplements like a Kiss My Keto protein powder are very important. Depending on the ones you take, you will help your organism get into the state of ketosis faster, thanks to more ketone bodies in your blood, be more refreshed, thanks to electrolytes which help maintain it hydrated, and maintain mental clarity and physical energy throughout the day and your fitness routine.
How to Take Kiss My Keto?
The answer to the question depends on the product you are referring to. Snacks like Kiss My Keto bars work wonders at any time of the day, before or after workouts, as breakfast, dessert, and everything else. Of course, you should never exaggerate, but these foods clearly don't have any recommended dosage.
The supplements we review, instead, do have to be taken in the suggested usage and never exceed what the manufacturing company advises to prevent potential adverse reactions. For example, for the electrolytes powder, you should mix one scoop with 8 or 10 ounces of water, for a maximum of three times a day. To see the exact dosage recommended for the product you want to buy, please refer to the official website for specific information. In any case, as a general rule, you should start very gradually in order to establish personal tolerance. Once you have done that, then you can gradually increase your serving sizes.
Kiss My Keto Safety and Potential Side Effects
Side effects are related to ketogenic supplements because your body might need a bit of time to adapt to the new changes and new substances in the blood. These effects should not worry you too much, as they are mainly digestive discomfort and an upset stomach. If you experience these symptoms, then reduce the serving size and then gradually increase it as personal tolerance is established.
Kiss My Keto Price
Prices for KissMyKeto products vary greatly. The cheapest one is Ketone Test Strips, currently on sale at $7.99 USD. These are used to check the ketone levels daily and receive the results within seconds. The most expensive supplement is Collagen, at $38.99 USD. You can always buy once and pay the entire price, but there is also the option to subscribe and receive delivery of the desired product every 30, 45, or 60 days. If you choose to subscribe, you also save about 10%. Also, by purchasing on KissMyKeto.com, you also gain "keto points", 1 for every dollar spent. Every 100 points, you obtain a $5 discount for your next purchase.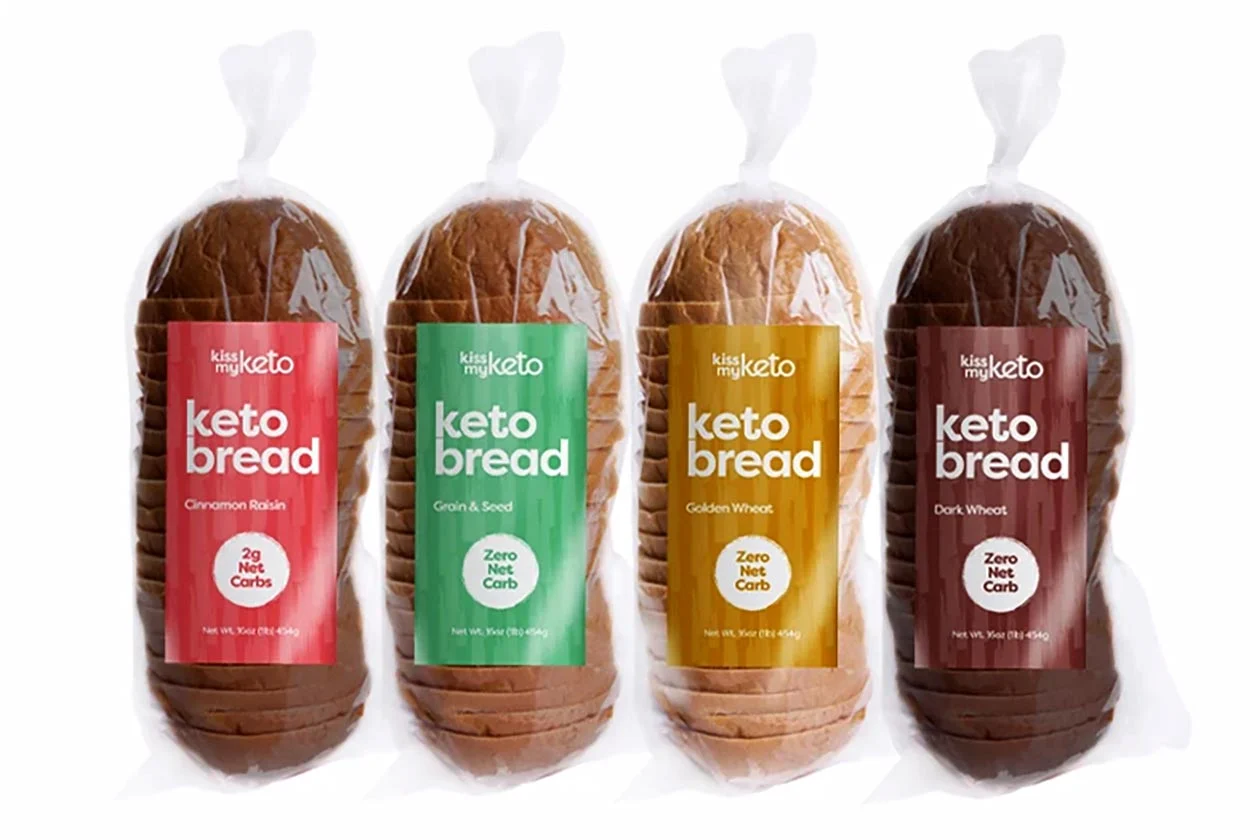 Conclusion
To conclude our Kiss My Keto reviews, we cannot but highly recommend this brand for the quality of their products and the help they provide during your ketogenic journey. We know it isn't always easy to pursue such a diet, and KMT, with its products, is here to make the road easier for you. Guaranteed, you will feel way more energized and confident, and you will definitely see great results.