Vital Proteins Review
Collagen is a fundamental protein our body needs to be fully healthy and working. Collagen supplements are everywhere, and any review promises incredible benefits to potential buyers. Vital Proteins is one of the leading companies in the sector and has been producing supplements for many years with very positive results. Let's find out more in our complete and updated review.
What Is Vital Proteins Collagen?
Vital Proteins is a brand specialized in the production of supplements for a variety of uses. Vital Proteins beauty collagen is one of the most popular products, but supplements for health and fitness are also very much appreciated by consumers. The brand is relatively new and has met fame thanks to a famous campaign with Jennifer Aniston, who became Chief Creative Officer in 2020.
The whole company, and thus its products, is based on the conviction surrounding all the benefits collagen brings into the fore when it comes to health and physical activity, as well as general wellbeing. In this review, we are talking, in fact, of our main structural protein, and it can be found in the bones, muscles, skin, and tendones. It provides strength and structure to the human body and supports it completely. As humans grow old, their ability to produce this protein deteriorates and its production slows down, sometimes even significantly.
Vital Proteins, therefore, is on a mission for producing high-quality products, varied for every necessity and taste. For example, there is the Vital Proteins collagen powder, or cream, or even marine or bone broth. In short, there is something for all tastes. As you will see by reading our review, you can take them either as supplements, in pills, or mixed with your favorite drink.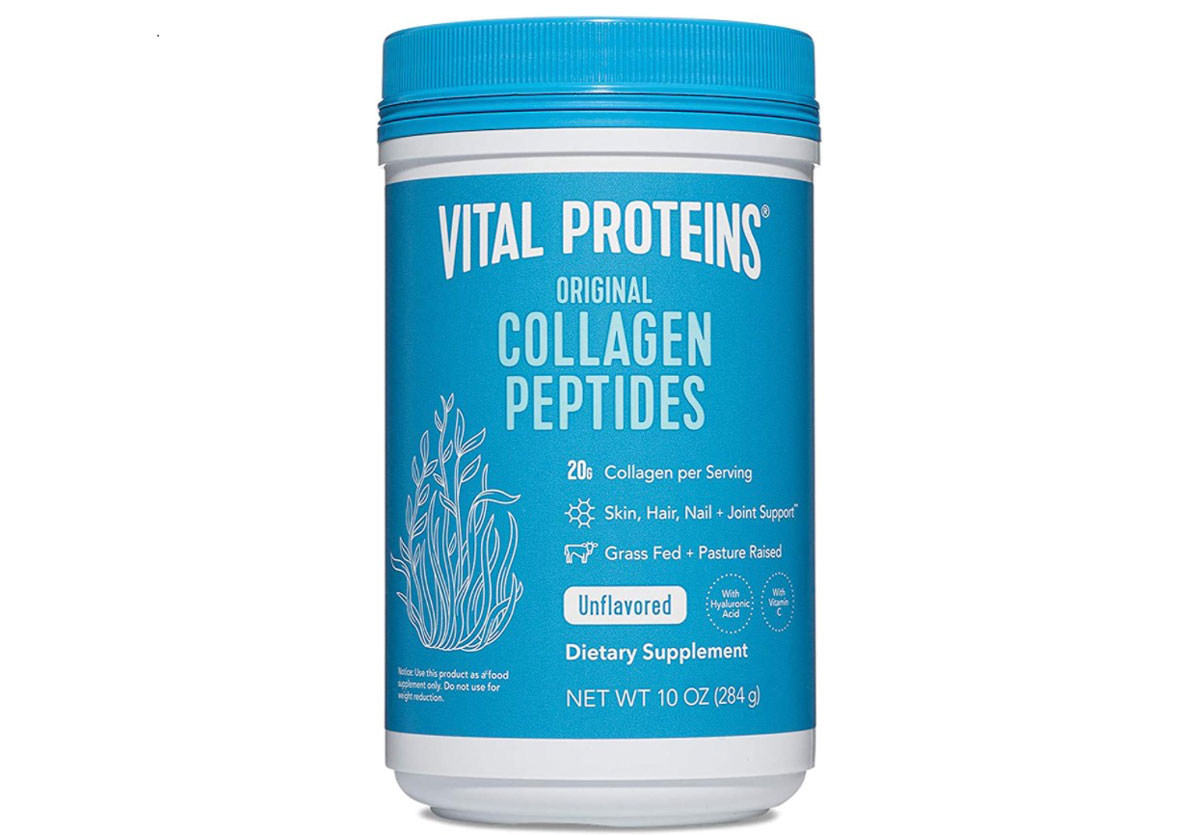 Pros and Cons of Vital Proteins Collagen
+ Huge variety of products with different specializations to meet your particular needs, such as health, beauty, sleep, fitness, diet, energy, and more.
+ As you will see in our review, these products are fundamental in keeping your body strong, young, and healthy because of its importance with regards to the connective tissue, as well as bones and muscles. We are talking about one of the most important proteins in mammals.
+ All ingredients from Vital Proteins products come from environmental-friendly sources. Their collagen is 100% grass-fed, pasture-raised, gluten and dairy-free, as well as non-GMO. It is also Kosher and Whole 30 approved and is perfect for a keto diet.
+ Vital Proteins collagen helps greatly in regenerating hair, nails, and skin, which could suffer some damage as a consequence of a low-carb ketogenic diet.
– It is not vegan and not even vegetarian since it comes from bovines. It is dairy-free, however.
– Even though you buy the product's quality, our review finds prices are a bit high compared to other supplements on the market.
Ingredients Used in Vital Proteins Collagen
As you have seen, the company offers its consumers a wide range of choices. It would be impossible to list all ingredients, but in our Vital Protein review, we will list some of the most important ones.
We should start with collagen, of course! It is the main ingredient, the one which made this company so popular and the one common to all their products. The one used by these manufacturers, as Vital Proteins collagen peptides reviews show, comes from bovines fed with grass and pasture-raised. This is why these supplements are not apt for vegans or vegetarians.
Other ingredients include hyaluronic acid, a substance naturally produced by your body that has the task of keeping your tissues lubricated and moisturized, and Vitamin C. The latter is fundamental for the proper function of your organism. It is specialized in repairing tissues and producing some neurotransmitters.
Some more particular products may contain some different ingredients. For example, Vital Proteins marine collagen reviews show how the main ingredient is scales of fresh whitefish caught in the wild off the Alaskan coasts and non-GMO.
Whatever product you end up purchasing, in our review, we want to stress the fact that all of them are paleo and Keto friendly, contain no added sugar, no gluten, nor dairy, and are Whole30 approved.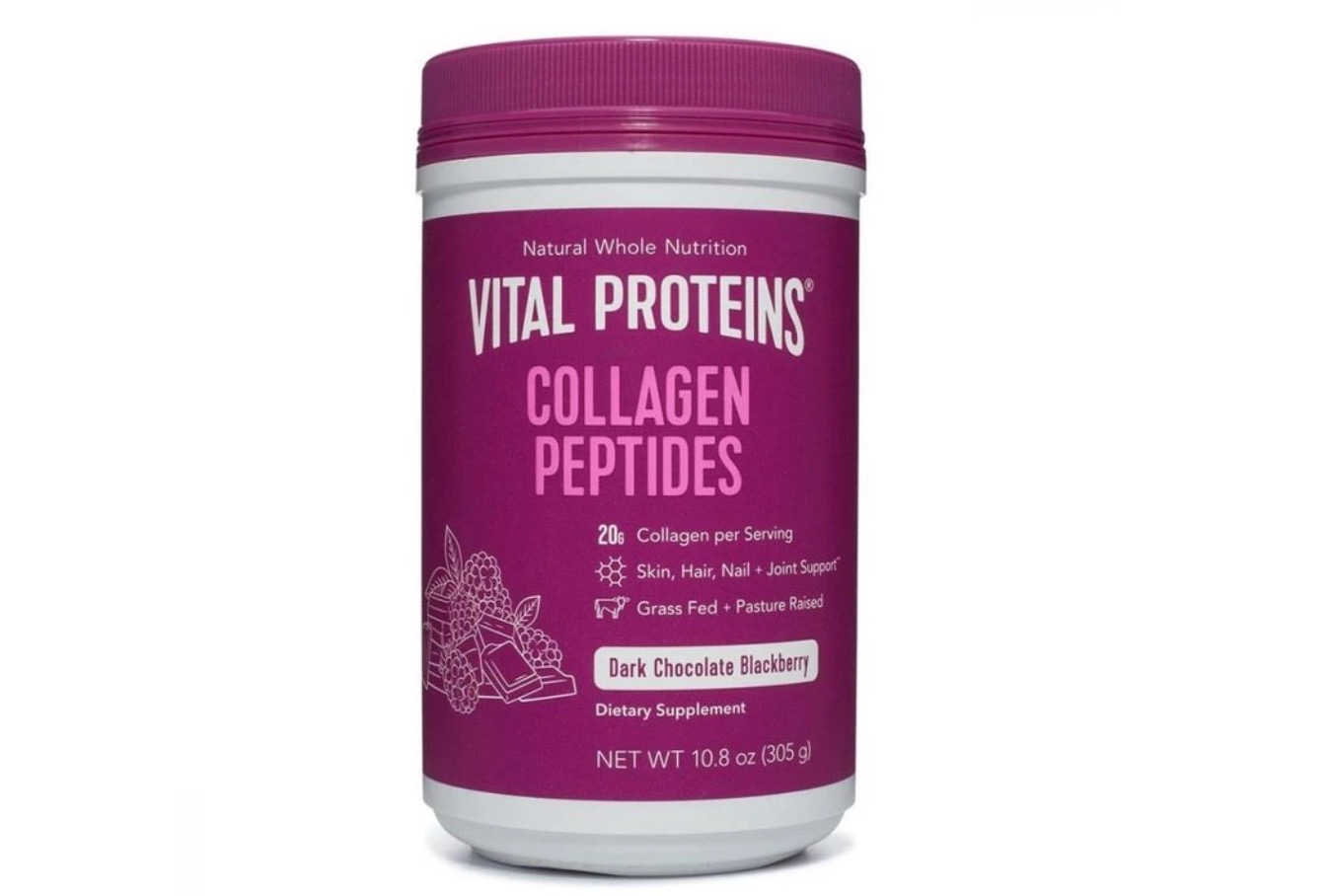 Vital Proteins Collagen Results
As we have mentioned earlier in our review, the ingredients you have read in our review have many benefits for your body and is a helpful ally when it comes to skin, nails, hair, bones, and much more. Here is a review of some of the main advantages for your organism as you start consuming Vital Proteins collagen supplements.
Stronger bones. As you age, your bones will become more fragile, and they will gradually lose their density. Getting daily doses of collagen is very helpful in slowing down the natural process of time, as it will strengthen your bones and even help in the production of new bone.
Skin elasticity and hydration. Collagen is very important for keeping your skin and cartilage elastic and moisturized. Vital Proteins collagen peptides before and after images show great results in a considerable little amount of time.
Thicker and healthier hair. If you are experiencing hair loss, or in general, your hair feels fragile and ruined, collagen can help you revert this tendency and actually increase hair quantity, cover potential scalps and thicken the hair, regardless of your age and gender.
Healthier nails. Sometimes nails can be susceptible to breaks, or they may grow slow or not grow strong enough. Vital Proteins collagen can help your nails grow fast and healthy and prevent painful or annoying breaks and chips.
Increased muscle mass. Combined with the correct training, and also with a keto, low carb, high fat diet, collagen can help your body get rid of unnecessary fats and build muscle mass and strength.
Reduced joint pain. Because collagen is such an important element for the well-being and functionality of your joints, taking Vital Proteins supplements could help you relieve eventual pain and improve your joints' efficiency.
How to Take Vital Proteins Collagen?
Vital Proteins collagen is a supplement easily digested by your body. The manufacturing company advises you to take 1 or 2 scoops a day. You can do so by mixing it with foods or drinks. For example, in our review, we suggest you try dissolving some in hot or cold drinks, like smoothies or water, or add it to foods such as desserts and dressings.
Vital Proteins Collagen Safety and Side Effects
Vital Proteins collagen reviews show that the company only uses collagen Type I and III. The first one is responsible for preserving and improving your skin, hair, and nails' health, as well as composing tendons, organs and bones. Type III is instead more present in reticular fibers. Because of the importance of such an ingredient, taking the recommended collagen dosis should bear no important side effects, or in any case, they are extremely rare. Remember to always listen to your body and contact a medical specialist if you notice anything wrong, but generally, you should be completely fine.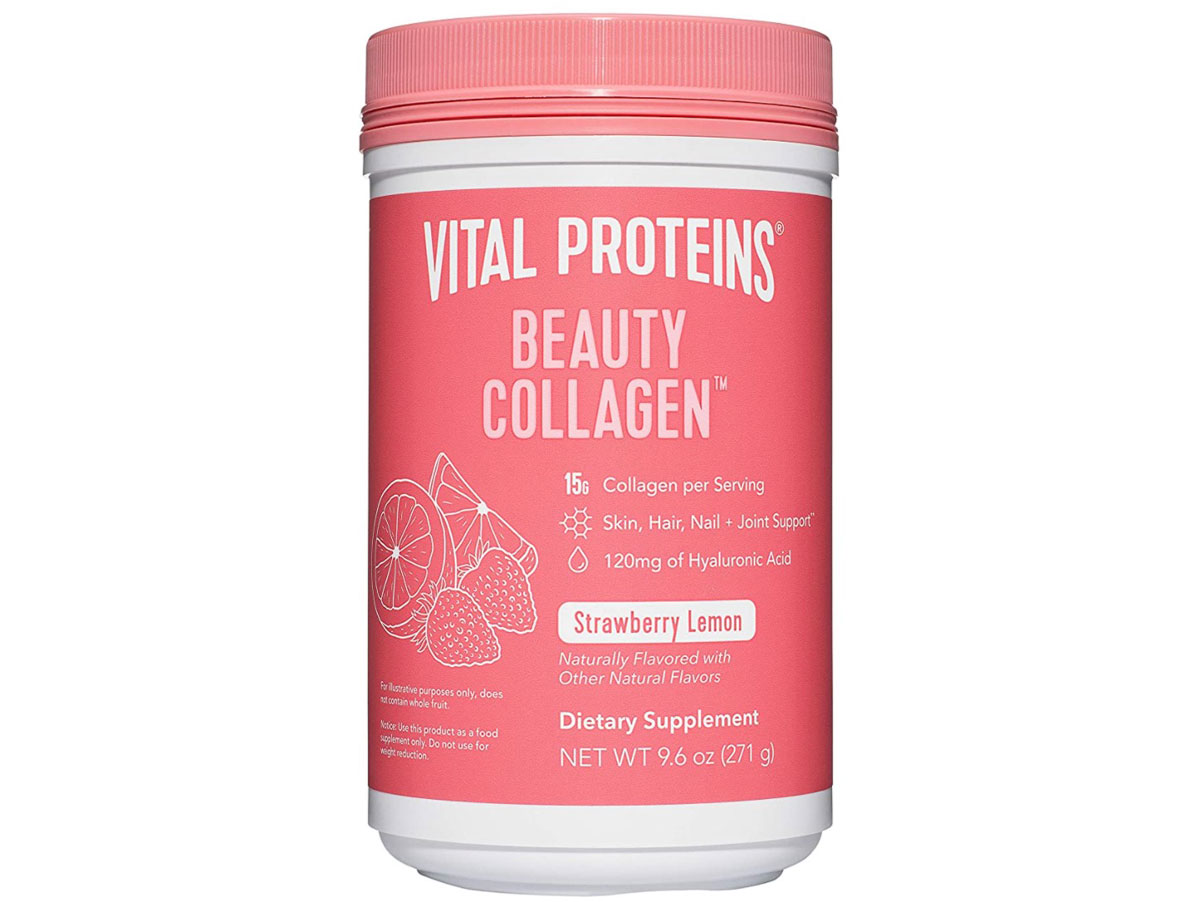 Where to Buy Vital Proteins Collagen
Our review team has found that Vital Proteins sells all its products on Amazon and other online stores, as well as on their official website. In particular, the latter is very useful because, apart from being a store, it also contains interesting information on the website, a FAQ section, and more tools that can help you decide which product to buy.
Of course, prices could change in the future, and much depends on what country and area you are making the purchase from, so take these review informations with a grain of salt. On the Vital Proteins website, you have the option to either buy a product one time or subscribe and pay depending on the frequency you indicate to receive 25% discounts, free shipping, and free samples.
As an example, at the time we are writing this review, a jar of Vital Proteins collagen peptides costs $25 dollars, but if you decide to subscribe, you pay $18.75 per week or other frequency of your choosing.
Conclusion
We have reached the end of our Vital Protein collagen peptides review. As you have seen, there are many benefits in taking these supplements, and the side effects are almost non-existent. If you are following a keto diet, collagen pills could become a powerful ally because they could help reduce appetite. They also provide some important benefits to your organism, not only hair and skin but also bones and joints, and they could boost your overall wellness. Vital Proteins is also a renowned company, on the market for many years and with loyal consumers who choose it for its quality and professionalism. Pur review team definitely approves of it.